Choosing a Pool Builder Contractor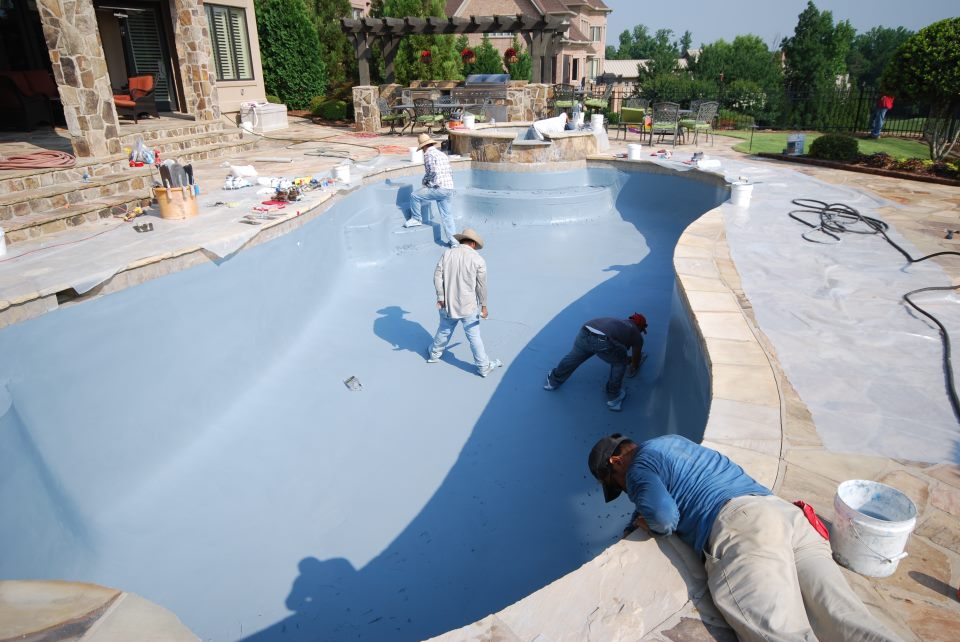 Choosing a pool builder is a major decision that requires careful research. You want to find someone who will build your dream pool and treat you with respect throughout the process.
Ask for references, look at projects they've built and check out their design center and showroom if possible. You'll be spending a lot of time with these people, so choose wisely!
Experience
A pool is a major project and there is much that needs to be done in a certain order. Experienced builders can guide clients through the process and make sure it is completed as efficiently as possible while ensuring that the finished product matches your vision.
The first step is to verify the builder's credentials. Find out how long they have been in business, and if they are licensed and insured. It's also a good idea to visit their office location to see how they run their day to day operations and meet their employees. You can also get a sense of their professionalism by how they interact with their customers.
Ask for references from previous clients and try to contact them directly. It is a red flag if they are unwilling to give out contact information or only provide general descriptions of their experiences. Make sure to ask for details about their projects including the size, materials and overall construction quality.
It is also a good idea to check out how the company handles payments. Some contractors require a large percentage up front, while others will collect in installments. If you pay a deposit upfront, it's a good idea to do so via a bank check or credit card. This will protect you if the contractor does not honor their contract or goes out of business.
Building a pool takes weeks or even months, so choose a company you feel comfortable working with for a long period of time. You will be spending a lot of money with this contractor, so you want to be able to trust them. Also, find out how they handle employee turnover and whether they have a system for checking background checks on their subcontractors.
Licenses
A reputable pool builder should have a valid contractor's license and proof of insurance. Ask to see these documents before hiring them. If they're hesitant to give you this information, consider finding another contractor. Taking this precaution can save you from working with a dishonest, unlicensed, or uninsured professional.
Also, a reputable pool builder should have a portfolio of projects. This will help you evaluate the quality of their work and see if they're able to match your aesthetic preferences. In addition, it's important to check whether the company has a system for screening subcontractors and workers. Since these people will be spending a significant amount of time on your property, it's essential to know that they're trustworthy and have a clean criminal history.
It's also worth checking if the company offers a warranty on their work. This will protect you in the event of unforeseen problems that may arise after the construction is complete. A warranty will usually cover issues like plumbing leaks and structural settlement.
Make sure that all of the terms, specifications, and inclusions are clearly outlined in the contract. Watch out for builders that use bait and switch tactics, luring you in with low initial estimates before increasing the price later on. This type of behavior can end up costing you a lot of money and may cause serious headaches in the future.
It's also a good idea to choose a builder that offers open lines of communication and is easy to reach. This will prevent any confusion and miscommunication that can lead to costly mistakes and delays in the project. Also, avoid builders that require a large deposit or down payment before starting work. Instead, pay a small percentage upfront or use a credit card, which will protect you in the event of a dispute.
Portfolio
A new swimming pool is an investment in your family's health and enjoyment. Once you've decided that you want to take the leap, it's important to select a builder with a portfolio of past projects and expertise in building the type of pool you envision for your backyard.
Ask for a list of references and photos of the types of pools they've built. You'll also want to verify that they have liability and workers' compensation insurance as well as a state contractor's license. A reputable company like The Woodlands Pool Builders will provide you with this information and may also be happy to share client testimonials. You can check out their past projects by visiting their website at www.thewoodlandspoolbuilders.com .
It's also helpful to know that a pool builder has experience working in your area, as climate and available space play an important role in pool design. A local builder will also be familiar with the city or county's building codes. This will help ensure that your project is done correctly from start to finish.
Once you've narrowed down the options, it's time to get started asking for quotes from prospective builders. Be sure to include a detailed description of the pool you want, along with the construction materials, timelines for completion, and estimated cost. Also, be sure to look at how the builder handles delays or problems during a project.
It's also a good idea to check out how many other jobs the builder is handling at any given time. If they have too many projects going at once, it's possible that your job could be put on the back burner or that something might go wrong during construction and delay your pool's completion. You'll want to find a builder who can give you their full attention during the construction process.
Reputation
Building a pool is a project that can take weeks or months to complete, so it's essential to choose a contractor who has a good reputation and is a reliable choice. Look for word-of-mouth recommendations and online reviews from previous customers. These are great sources of information because the majority of people will only recommend companies they're happy with.
During the initial interview, ask for references and contact details of past clients. If they're reluctant to provide you with these or can't give you any names at all, it may be a red flag. Likewise, avoid contractors who claim they can start work on your project immediately. This could indicate they have a lack of ongoing projects or are overburdening their schedule to get new business.
You also want to find out if they employ their own crew or subcontract the construction process. This is important because the builder and their team will be on your property day in and day out for a lengthy period of time. You want to make sure they're professional, friendly and punctual.
It's a sign of professionalism when the builder is always on time for appointments and does not miss any phone calls without giving you advance notice. They should communicate clearly and thoroughly to explain all aspects of your project. Moreover, they should keep you updated at all stages of construction so that there are no surprises at the end of the pool building process. This is an essential part of ensuring that your project will be finished on time and within budget. Lastly, it's worth finding out how long they estimate the project to take and what their responsibilities are in case any problems arise.
Customer Service
The best way to judge a builder is through customer satisfaction reviews and references. Request to speak with the sales person's previous clients and see how satisfied they were with the process and their finished swimming pool. You can even visit a few constructed pools to see the finer details and ask questions.
It is also a good idea to check if the company has any ongoing legal disputes. This can be done by checking public records and online search platforms. A company with a history of unresolved issues may be struggling financially or have poor business ethics.
In addition, look for a company with a clean record and positive reputation within the industry. It's important to choose a builder that can guarantee their work and stand behind their quality.
Another thing to keep in mind is how long the company has been in business. While every company has to start somewhere, it's always better to work with a reputable contractor that has been in the industry for many years. This will ensure that they have the funds to continue operating in the future if there are any issues with their construction or warranties.
It is also a good idea to stay away from companies that try to rush the process by asking for a large down payment or wanting to start the project at their first meeting. This could be a sign that they are not a reliable choice and may not be around when you need them after the pool is completed. Lastly, make sure they have the appropriate insurances and a valid state contractor's license. It's also a good idea to find out if they have workers compensation and liability insurance, as these are important to cover any accidents that may occur while working on your property.
Choosing a pool builder is a major decision that requires careful research. You want to find someone who will build your dream pool and treat you with respect throughout the process. Ask for references, look at projects they've built and check out their design center and showroom if possible. You'll be spending a lot of…
Recent Comments
No comments to show.